Paul Deatherage is an active performer and educator in the central Kentucky area. He is a versatile percussionist, experienced in many areas including jazz, concert, marching, and world percussion.
Education
BMME: Tennessee Technological University (2005)
MM: University of Kentucky (2009)
Paul attended Tennessee Technological University, where he studied with Joseph Rasmussen and Eric Willie, completing his Bachelors Degree in Music Education in December, 2005. While living in Cookeville he also studied with Bill Bachman. Paul moved to Lexington in 2007 to study with James B. Campbell and John Willmarth, while pursuing his Master's Degree in Percussion Performance at the University of Kentucky. He completed his M.M. in May, 2009.
Teaching
Paul leads a varied teaching career, working with students at middle school, high school and college levels. Paul currently teaches drumset at the University of Kentucky. He also teaches applied percussion lessons at Centre College. He is on percussion staff at the Lafayette High School Band, a 21-time marching band state champion. In addition, he maintains a private teaching studio at Don Wilson Music in Lexington.
Performance
Paul has a very active career as a freelance percussionist. He currently holds the drumset chair for the DiMartino / Osland Jazz Orchestra, the Osland / Dailey Jazztet, the Raleigh Dailey Trio, the Ross Whitaker Trio, the Walnut Street Ramblers, and Sound Foundry jazz quartet.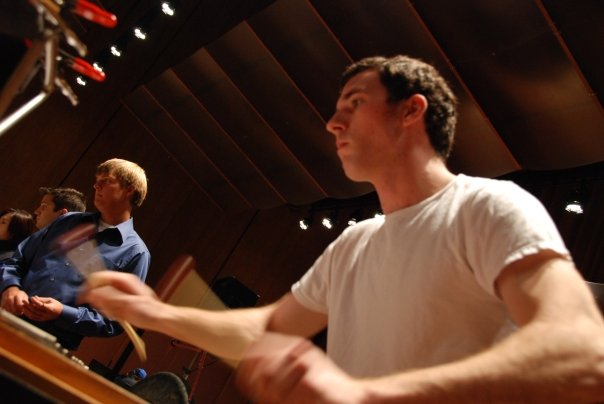 Paul has performed in a variety of musical situations including large and small jazz ensembles, percussion ensembles, marching bands, orchestras, the Tennessee Tech Tuba Ensemble, and the University of Kentucky steel band. He has performed with the Lexington Philharmonic Orchestra, with Abusua (The TTU West African dance ensemble) and with the Sound/Vision ensemble, performing contemporary classical compositions.
Over the years Paul has had opportunities to share the stage with such noted artists as Joe Lovano, Rudresh Mahanthappa, Wycliffe Gordon, Jeff Coffin, Doc Severinsen, Bob Mintzer, Allen Vizzutti, Arlo Guthrie, Clay Jenkins, Jens Lindemann, Malcolm-Jamal Warner, Howard Levy, Jim Snidero, Zach Brock, Mario Pavone, Dave Ballou, Denis DiBlasio, Greg Abate, Roberto Sion, Ellen Rowe, Al Hood, Ron McCurdy, Vince Dimartino, Dan Moore, Miles Osland, and Raleigh Dailey.
CLICK HERE to see videos from some of these shows!
Notable performances include:
Glenn Miller Orchestra at the Derby Dinner Playhouse, Clarksville, IN (Jun, 2021)
Origins Jazz Series presents the Osland/Dailey Jazztet at TeeDee's Lounge, Lexington, KY (Jan, 2020)
Origins Jazz Series presents the Duke Ellington Nutcracker Suite at the Lyric Theater, Lexington, KY (Dec, 2019)
Jon Jang and the Raleigh Dailey Trio at University of Kentucky (Mar, 2019)
Clay Jenkins and the DiMartino/Osland Jazz Orchestra at the National Trumpet Competition, Singletary Center for the Arts, University of Kentucky (Mar, 2019)
Origins Jazz Series presents Ross Whitaker group playing the music of John Scofield at TeeDee's Lounge, Lexington, KY (Mar, 2019)
Jeff Coffin, Derek Brown, and the Osland/Dailey Jazztet at Singletary Center for the Arts, University of Kentucky (Nov, 2018)
Howard Levy and the Osland/Dailey Jazztet at Singletary Center for the arts, University of Kentucky (Sep, 2018)
Wycliffe Gordon and the DiMartino/Osland Jazz Orchestra at the Great American Brass Band Festival Main Stage (Jun, 2018)
Sax N' Drums Duo with Miles Osland at the National Saxophone Alliance Conference, University of Cincinnati (March, 2018)
Rudresh Mahanthappa and the Osland / Dailey Jazztet at Singletary Center for the Arts, University of Kentucky (Feb, 2018)
Lexington Philharmonic Orchestra and Canadian Brass, for world premier of Michael Brubeck's composition, No Borders-Concerto for Canadian Brass. Singletary Center for the Arts, University of Kentucky (Nov, 2017)
Jens Lindemann and the Raleigh Dailey Trio at Great American Brass Band Festival Symposium (Jun, 2017)
Greg Abate and the Raleigh Dailey Trio in Phil Woods Tribute Concert, University Of Kentucky (Oct, 2016)
Mario Pavone, Dave Ballou and the UK Nonet in Thomas Chapin Tribute Concert, University of Kentucky (Sep, 2016)
Wycliffe Gordon and the Walnut Street Trio at Great American Brass Band Festival Symposium (Jun, 2016)
Raleigh Dailey Trio and Special Guests at Wycliffe Gordon's Wedding Reception (Nov, 2015)
Jim Snidero and the Raleigh Dailey Trio at University of Kentucky (Nov, 2015)
Guest artist and clinician at Tennessee Technological University with the Raleigh Dailey Trio (Nov, 2015)
Wycliffe Gordon CD Release party with the DiMartino-Osland Jazz Orchestra at Comedy Off Broadway (Oct, 2015)
Wycliffe Gordon, Al Hood, and the Raleigh Dailey Trio at the Great American Brass Band Festival (June, 2015)
Guest artist at the University of Iowa with the Raleigh Dailey Trio (Nov, 2014)
Howard Levy and the Osland / Dailey Jazztet performance at Natasha's Bistro (Oct, 2014)
Malcolm-Jamal Warner and the Ron McCurdy Quartet at University of Akron (Oct, 2014)
Zach Brock and the Raleigh Dailey Trio performance at the Downtown Arts Center, Lexington (Aug, 2014)
Jeff Coffin and the Osland / Dailey Jazztet performance at Natasha's Bistro (Mar, 2014)
Presenter at the Alabama Percussive Arts Society Chapter Day of Percussion. Clinic, "Soloing in Jazz: Foot Ostinatos, Form and Max Roach" (Mar, 2014)
Bob Mintzer, Wycliffe Gordon, the Osland / Dailey Jazztet and the UK Jazz Ensemble at the Midwest Band and Orchestra Clinic, Chicago (Dec, 2013)
Arturo Sandoval, the Osland / Dailey Jazztet and the UK Wind Symphony (Dec, 2013)
Doc Severensen and the DiMartino / Osland Jazz Orchestra at Comedy off Broadway (Jan, 2013)
Morehead University Faculty Group, Bluegrass Inaugural Ball, Washington D.C. (Jan, 2013)
Barry Mando Project at the Master Musicians Festival (Jul, 2012)
Doc Severensen, Allen Vizzutti, and the DiMartino / Osland Jazz Orchestra at The Great American Brass Band Festival (Jun, 2012)
Joe Lovano and the Osland / Dailey Jazztet at the North Sea Jazz Festival, Rotterdam, the Netherlands (Jul, 2011)
Osland / Dailey Jazztet at the Montreux Jazz Festival, Montreux, Switzerland (Jul, 2011)
Presenter at the Kentucky Percussive Arts Society Day of Percussion. Clinic, "Interaction and Internalization" (Mar, 2011)
Walnut Street Ragtime Ramblers tour of Spain (Jan, 2011)
Bob Mintzer and the UK Jazz Ensemble recording session for the album, GO! (8651-MCD) (April, 2009)
Bob Mintzer and the UK Jazz Ensemble at the Midwest Band and Orchestra Clinic (Dec, 2007)
Arlo Guthrie and the UK Symphony Orchestra at Carnegie Hall, New York (Nov, 2007)
UK Percussion Ensemble at the Percussive Arts Society International Convention (Nov, 2007)
Tennessee Tech University Alumni All-Star Tuba Ensemble at Carnegie Hall, New York (Jan, 2007)
Tennessee Tech University Tuba Ensemble at Carnegie Hall, New York (Jan, 2003)